SFC Sponsors Textile Upcycling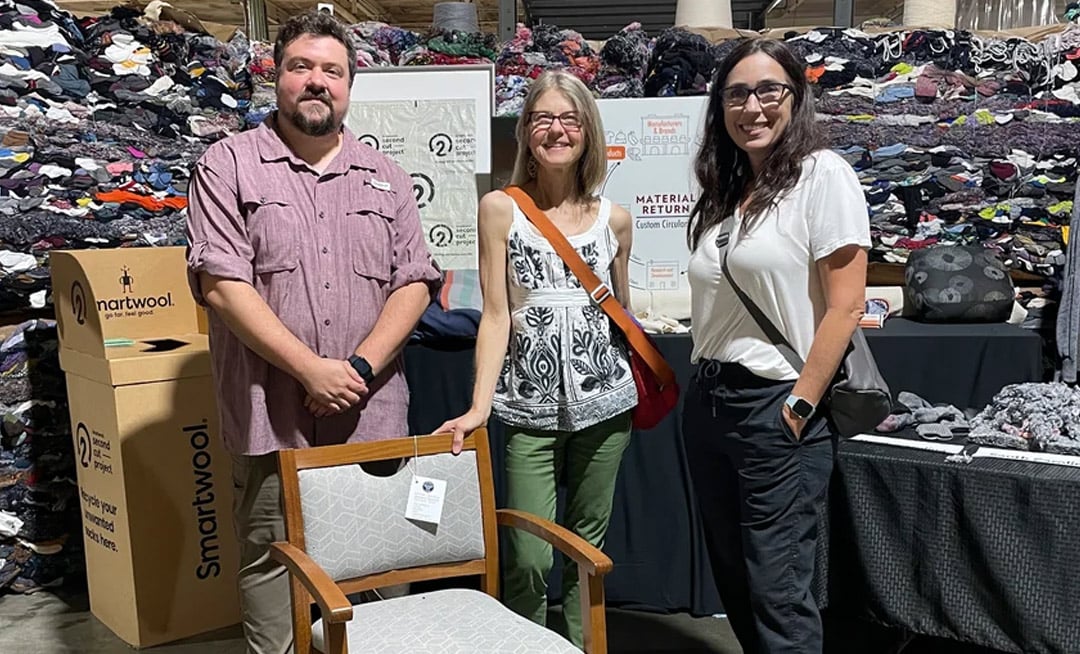 SFC is excited to continue sponsoring the TEXTILE UPCYCLING INITIATIVE at the Fall Interwoven Textile Fair! Interwoven is International Textile Alliance's bi-annual textile market. Buyers worldwide come to shop for the latest fabrics for upholstery and furnishings. You can imagine what a beautiful show it is to walk and see all the latest colors, textures, materials, patterns, prints, and more.

Typically, the dumpsters are full of fabric samples at the beginning and end of the show. We don't blame anyone, but that's been the only option because there was no other option*.
SFC has partnered with ITA and Material Return since November 2022, and the boxes for recycling will be ready for the 2023 Fall show. (The exact dates of the show are Nov 14-16, but collection will happen as companies set up and break down showrooms).
All textile companies at Interwoven can put their discontinued and other fabric samples** in a bin for upcycling. At the end of the show, industry partners Material Return will pick up the samples and take them back to their facility in Morganton, NC - and they will process the fabric down to "fiber level" or shoddy - think fuzz or organized dust bunnies - and then out of this fuzz they can make yarn, thread, new fabrics, and new products (including apparel) with ALL UPCYCLED CONTENT. We think this is pretty cool! And we are so relieved to be doing our part for the environment at this show.
ADDITIONAL EDUCATIONAL EVENTS ARE BEING PLANNED AROUND THIS INITIATIVE. WE WANT EVERYONE TO LEARN MORE AND TAKE ADVANTAGE OF THIS OPPORTUNITY. Stay tuned!
Look for this sticker at textile showrooms or booths to show they are participating and upcycling samples instead of throwing them away!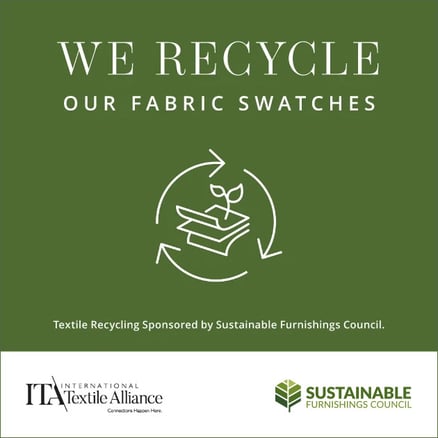 We hope the industry at large around the United States is starting to scale up this type of textile upcycling model like Material Return is doing in Western North Carolina! We are so proud of them and happy to sponsor this initiative and collaborate with ITA.

"The initiative is huge for our industry since textiles have been the fastest-growing component of NC landfills. We have been able to donate samples for reuse in the past, but nothing close to the scale of samples being discarded between trade shows. Through the support of the Sustainable Furnishings Council and the work of the Material Return, we now have a solution that benefits all of us." - Carrie Dillon, ITA's Managing Director

To learn more:
Material Return ITA SFC What is upcycling, you ask? Download a Circular Design Glossary here!
Email us at SFC: admin@sustainablefurnishings.org


* There are other options you can do at a local level: Donate fabric samples and usable scraps to local businesses, schools, theater programs, kids' programs, art resale stores, and more. Many SFC Members know to do this - and sometimes, these places can only take some of the samples! We have to scale up - and the Interwoven Upcycling Initiative is one way! Thank you for your efforts!
** Fabrics must be free of grommets, staples, chainrings, and other hardware, paper, etc. No fabric books. Only fabric can go into the machines for upcycling. Participating companies are asked to cut the hardware off the samples before adding them to the special bins at the show.
After each show, we will learn how many #LBS. of textile waste, we are saving from the landfills.

Nov 2022: 846 lbs of textiles collected
Spring 2023: ? lbs of textiles collected
Nov 2023: TBD
Stay tuned, and again, thank you for your efforts!